Welcome to FGCIPH!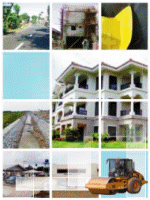 F. Gurrea Construction, Inc. (FGCI) is a full-service construction company that is licensed and categorized "AAA" by the Philippine Contractors Accreditation Board. The company has an internationally-recognized Quality Management System Certification from the International Organization for Standardization (ISO 9001:2008) and is a leading builder in various diverse market segments in the Visayas region.
General Contractor
FGCI provides general building and general engineering services to a broad range of clientele in the Visayas region.
Equipment Rental
FGCI has a number of special equipment available for rent and for sale. These include heavy machinery for Asphalting, Concreting, Earth Moving, Lifting, Hauling, and Transporting.
Other Services
FGCI provides design, planning, and estimation (horizontal and vertical) services; and supplies sand, gravel, crushed aggregates, filling materials, ready mix concrete, and asphalt (including asphalt concrete); among others.